According to the DVSA, it takes 45 hours of professional instruction and 22 hours of private practice to learn to drive on average.
For many teenagers obtaining their driving licence is a rite of passage, a tangible step in the direction of adulthood, and a milestone worth celebrating. As a young adult, the freedom that comes from being able to go where you want, when you want, is a strong motivating factor in deciding to get a driving license. There are also many adults that may not have needed a driving licence when they were younger, but now want the freedom of travel and the flexibility that a license allows them.
No matter your age or reason why you want a driving license, the first step is always the same; learning how to drive. The length of time this takes depends on a multitude of factors that are important to consider when thinking of pursuing your driving licence. In this article, we'll break down exactly how long it takes to learn how to drive and the various factors that influence how long it will take you.
First Thing's First: Make Sure You're Qualified to Drive
The first thing you should do when pursuing a driving licence is to check and make sure that you are actually allowed to drive. There are certain requirements in place to ensure that everyone on the road meets certain physical and age-related standards as well as ensuring the vehicle being driven is safe to operate on UK roads.
Here's a breakdown of the requirements that you'll need to meet before your legally allowed to learn how to drive:
Age Requirements
You must be at least 15 years and 9 months old to apply for a provisional licence which allows you to practice driving with a qualified driver or instructor
You must be 17 years old to independently drive a car (16 years old if you have received or applied for the enhanced rate of the mobility component of the Personal Independence Payment (PIP)
Eyesight Requirements
The ability to read a car number plate made after 01/09/2001 (glasses or contact lenses are permitted)
Meet the minimum visual acuity standard of decimal 0.5 (6/12) on the Snellen scale using both eyes or if you have sight in only one eye, then that eye (glasses or contact lenses are permitted)
You must have an adequate field of vision as determined by your optician
Vehicle Requirements
You must display L plates (both L plates and D plates are permitted in Wales)
The vehicle must be registered with the DVLA
Have up to date vehicle tax and a current MOT certificate (if necessary)
The vehicle must be roadworthy
Step 1: Obtain a Provisional Licence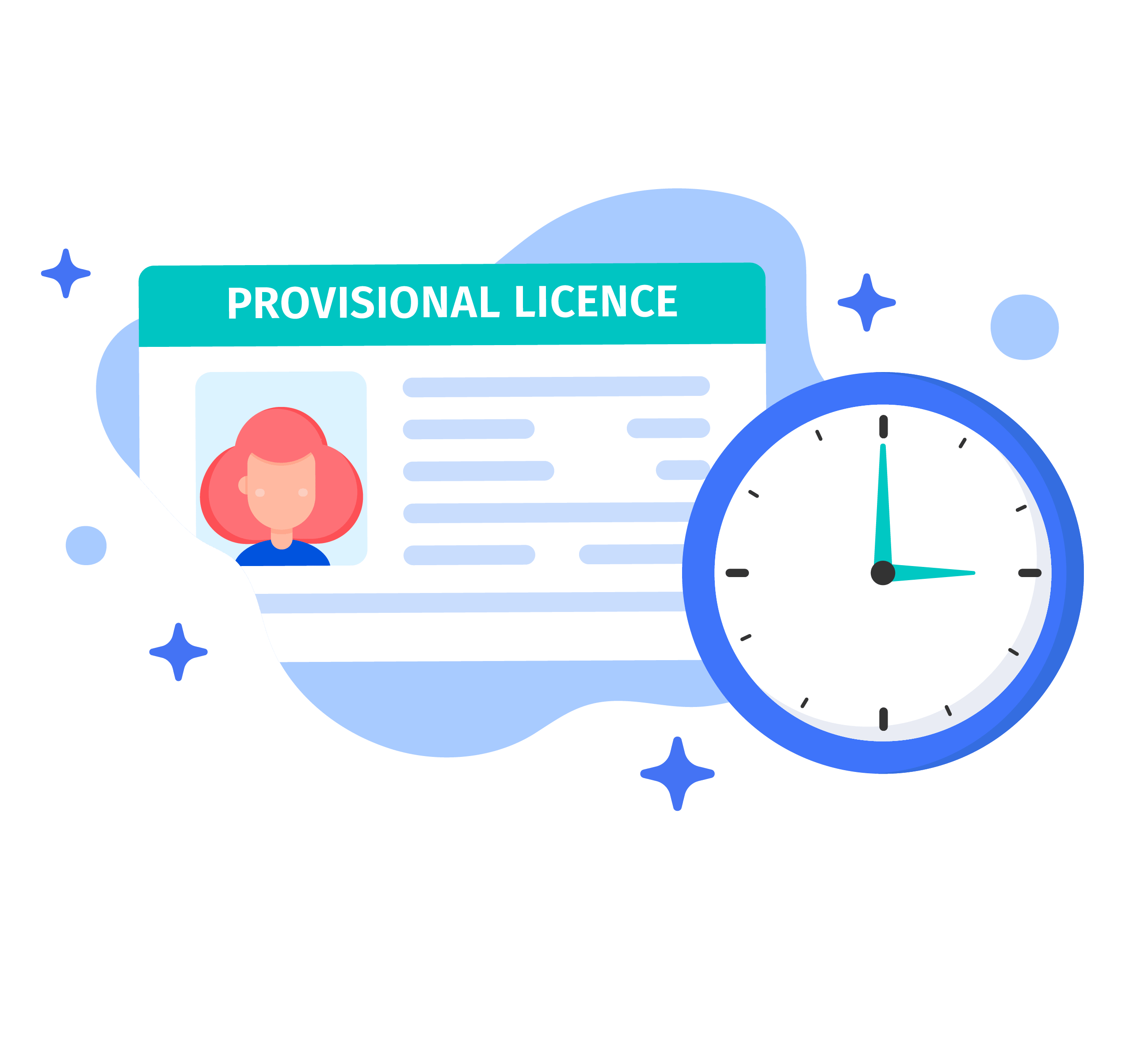 Once you've determined that you're legally qualified to drive then it's time to obtain your provisional licence. Your provisional licence allows you to practice driving while being supervised by a qualified driver. Typically this is a driving instructor or a friend or family member who is over the age of 21, has had a license for over 3 years and is qualified to drive the type of vehicle that you want to receive your licence for.
Below you'll find the requirements to apply for your provisional licence from the DVLA (Northern Irish citizens will need to apply via the DVA):
Applying Online
An identity document or valid UK biometric passport
A list addresses where you've lived over the past 3 years
You National Insurance number if you have it available
Pay the £34 fee by debit or credit card (MasterCard, Visa, Electron or Delta)
Applying In-Person or by Post
Fill out form D1 (available at the post office)
Provide an original identity document or valid UK passport number
Pay the £43 fee (cheque or postal order when applying by post)
If applying by post, send the documents and payment to DVLA Swansea, SA99 1AD
Total Time: It takes 1-3 weeks for your provisional licence to arrive.
Step 2: Gain Behind the Wheel Experience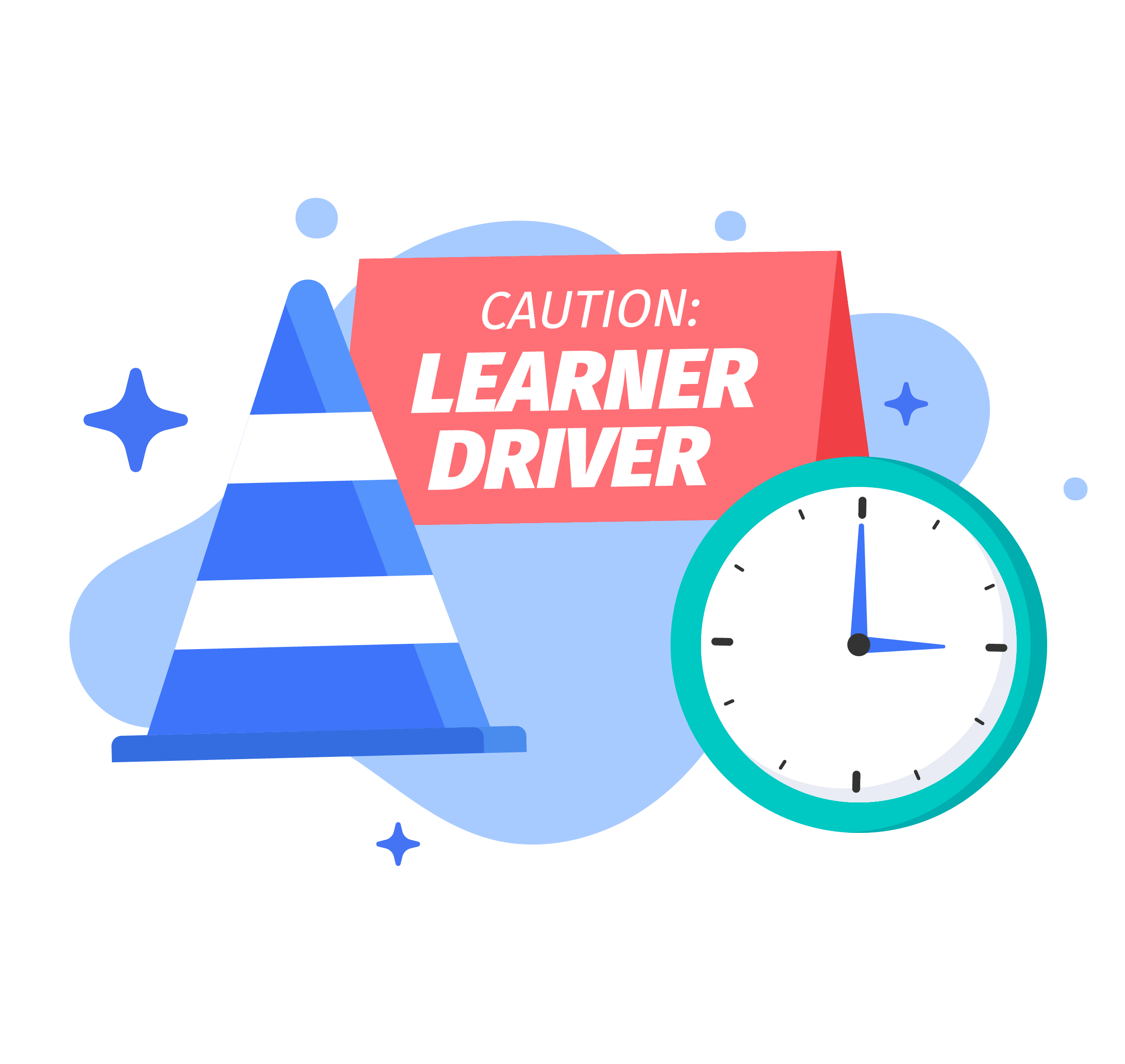 Now that you have your provisional licence, it's time to gain behind the wheel experience. According to the DVSA it takes on average 45 hours of professional instruction and 22 hours of private practice to gain the skills and confidence to learn how to drive. There isn't an established number of practice hours required to learn to drive and the time it takes depends on how quickly you're able to learn. The most important part of practicing is to gain enough experience that you feel confident behind the wheel. This will translate into a higher likelihood of passing your driving test and will set you up to become a safe driver down the road.
Below you'll find the most common ways people go about gaining behind the wheel experience and some of the considerations to make when deciding whether to hire an instructor or join a driving school.
The Best Ways to Gain Behind the Wheel Experience
The most common way people gain initial behind the wheel experience is by learning from an Approved Driving Instructor (ADI). This can be in the form of private lessons where you hire an instructor directly or by attending a driving school. After gaining experience with an instructor, it's a good idea to practice with a qualified family member or friend so that you can gain additional driving experience.
Hiring an Approved Driving Instructor (ADI)
ADI's can be either self-employed or part of a driving school. It's important to verify that the instructor is approved by the DVSA and to check and see if they have a good reputation. The UK government has set up a tool that allows you to search for qualified instructors in your area. You can find the tool below:
Find Driving Instructors Service
Driving lessons will typically cost somewhere between £20-£30 depending on where you live. If you're trying to save on driving lessons you may want to consider an intensive driving course. These courses allow you to learn how to drive in under a week or two and are often cheaper than paying for individual lessons.
Practicing with Friends and Family
After gaining experience with a driving instructor the next step is to practice with a family member or friend that meets the following criteria:
They're over 21 years of age
Their car is the same car type for which you're trying to gain your licence
They've had their driving licence for 3 or more years
Keep in mind that if you're driving in England, Scotland, or Wales and would like to practice on a motorway then you'll need to practice with an ADI with a car that is fitted with dual controls so make sure to gain this experience when working with your driving instructor.
The DVSA data suggests that the average amount of time people spend practicing with family or friends is around 22 hours. This isn't a strict guideline though so you should practice to the level at which you feel confident behind the wheel.
Total Time: It takes 2-12 weeks of driving instruction and practice to prepare for your driving test.
Step 3: Study and Pass Your Tests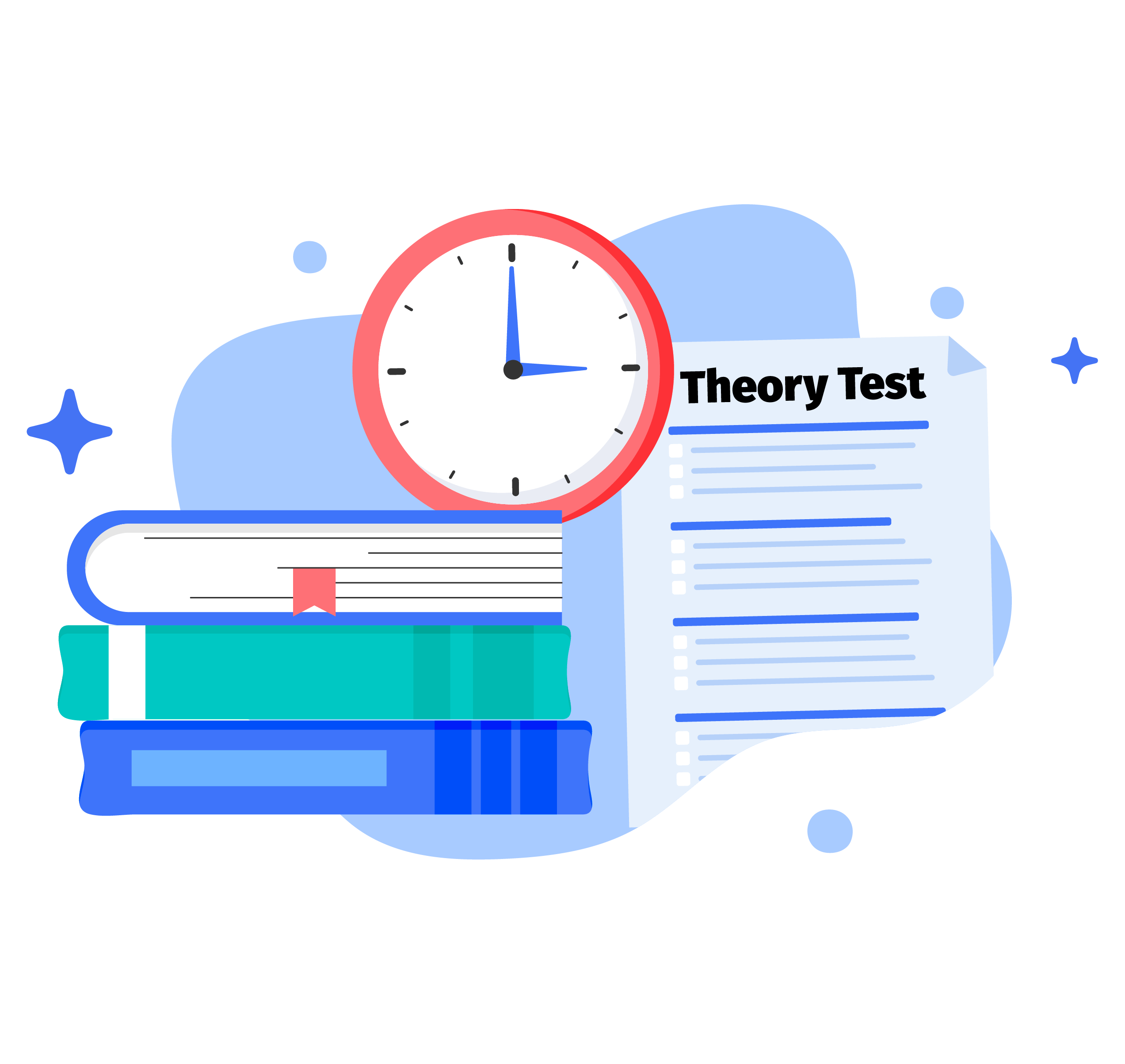 There are 2 tests that you must take in order to earn your driving license: the theory test and the driving test. The theory test is a two-part test that includes the following:
Multiple-choice questions
A hazard perception test
The multiple-choice questions found on the theory test are based on information found in 3 books. These books cover the rules of the road and how to operate a vehicle safely on UK roads Here are the three books:
The Highway Code
Know Your Traffic Signs
Driving -- The Essential Skills
To prepare for the multiple-choice portion of the test you can read these books directly or use a comprehensive test preparation software that simulates the real exam.
The hazard perception test measures your ability to respond to developing hazards that a motorist might face on the road and requires you to slow down. An example of a developing hazard would be a car quickly entering the roadway in front of you or a pedestrian crossing in front of your vehicle. You earn points for each developing hazard you identify correctly and these points are what count toward a passing test score.
| | | |
| --- | --- | --- |
| Type of Test | Pass Mark | Available Points |
| Multiple-choice | 43 | 50 |
| Hazard perception | 44 | 75 |
After gaining behind the wheel experience and studying for the theory test, it's time to book your tests. Find out how to book your tests below.
Book Your Theory Test
Use the government website below to register for the theory test. You'll need to have your provisional driving license number, email address and a credit or debit card to pay the fee:
Book Your Driving Test
To book your driving test you'll want to use the government website link below where you will be able to select a date, location and pay the fee:
It's best to book your driving test as soon as possible so as to avoid being delayed. A shortage of examiners and recent revisions to the test that include an additional 10 minutes of independent driving time have contributed to wait times that can range from 2 weeks to over 3 months.
| | | |
| --- | --- | --- |
| Type of Test | Weekdays | Evenings, weekends and bank holidays |
| Theory Test | £23 | £23 |
| Driving Test | £62 | £75 |
After Passing the Theory and Driving Test
Upon passing your driving test, you'll be able to start driving immediately. Your instructor will take your provisional licence and send it to the DVLA and you'll be sent a new permanent driving licence within 1-3 weeks. However, you don't need to wait for the new licence before you can start driving. As long as the car you are driving is taxed and insured then you are able to start driving immediately.
What to Do If you Fail
While nobody wants to think about failing their driving test, it does happen so it's best to be prepared. The average pass rate for the written exam is only 49.5% so this scenario is more common than you might think.
If you fail the theory test you'll receive a letter at the testing centre letting you know which areas of the test that you did not score well so you'll know which areas you should spend time revising. You must wait 3 working days before you can retake the test if you fail.
If you fail the practical test, your examiner will tell you where you made mistakes. You'll have to wait at least 10 days to retake the test. It is possible to appeal the results of the test if you think your examiner incorrectly faulted you. This won't change the test results but you may be able to get a free retest.
Total Time: It takes around 1-4 weeks of study and revision to prepare for the theory test.
Total Time It Takes To Learn How To Drive
Here's a breakdown of the estimated time it takes to learn how to drive. Keep in mind that while the DVSA says that it takes on average 45 hours of instruction and 22 hours of practice to prepare for the driving test, this is just an average and there are no restrictions on the minimum or maximum amount of instruction that you may receive.
| | |
| --- | --- |
| Process | Estimated Time |
| Obtain a Provisional Licence | 1-3 Weeks |
| Gain Behind the Wheel Experience | 2-12 Weeks |
| Study and Pass Your Tests | 1-4 Weeks |
| Total Time | 1-5 Months |
Frequently Asked Questions (FAQs)
How long is a driving test?
The practical driving test lasts around 40 minutes. Before taking the test the test administrator will administer a quick vision test by having you read a licence plate from 20 meters away.
Before you start driving you'll be asked a "tell me" question and a "show me" question while driving. During the drive you'll be given verbal instructions from the administrator to demonstrate your general driving ability by stopping on the side of the road, pulling out from behind a parked vehicle, and starting the car while on a hill.
You'll also be asked to perform a maneuver involving reversing your vehicle as well as a 20 minute period where you will drive independently by following satellite navigation or traffic signs.
Can you learn to drive at 16?
Yes, you can get your provisional license at age 15 years and 9 months. This is when you can begin to practice with an Approved Driving Instructor (ADI) or a family member/friend who is at least 21 years of age, has been driving for at least 3 years and has the same type of vehicle for which you are trying to earn your licence.
How many driving lessons should I take a week?
Many people take lessons twice a week for 1-2 hours. The DVSA cites the average time it takes to learn to drive at 45 hours so this works out to around 3-6 months of driving lessons at this pace.
How long does a provisional license last?
A provisional driving licence lasts for 10 years. Keep in mind that after passing the theory test, you have 2 years to take your practical test. If more than 2 years have passed you will need to retake the theory test.
How many lessons does it take to drive?
With an average of 45 hours of driving lessons needed to learn how to drive, this can take around 23-45 lessons depending on if you are taking one or two hour lessons.
Another option is to take a driving intensive course where you drive around 2-5 hours a day. This can significantly speed up the process of learning how to drive and can cut the number of lessons down to around 5 or 10.
Final Conclusion
The length of time it takes to learn how to drive depends on a number of factors, some of which are within your control. What it really comes down to is how fast you want to earn your licence. A highly motivated learner driver may take as little as 2 months to earn a license where somebody taking a more casual approach may take 6-12 months.
One important thing to note is that the average pass rate for the written part of the theory test is only 49.5%. Using a study aid like Toptests Premium's comprehensive study program, you can double your chances of passing. Check out Toptest Premium today!
93%
of people found this article
helpful
.
Click a star to add your vote
11
votes - average
4.64
out of
5
How good of a driver are you?
An expert behind the wheel or danger to the road?
Take a free quiz