Potholes are a recurring problem on Britain's roads, with a surprising number of the country's motorists affected. According to research from the AA, one in three drivers have had their cars damaged by a pothole over a two-year period -- soaring to 44% of motorists in Scotland.
Councils say that they are trying their level best to address the nation's pothole crisis, but unfortunately, the backlog of repairs only appears to be growing.
The Local Government Association -- which represents councils across England and Wales -- claims as much as £14 billion might be required to get roads up to scratch, but says Government budget reductions mean they're only able to apply temporary fixes instead of resurfacing a road properly.
Most councils inspect their roads on an annual basis, and so they rely on reports from motorists when problems arise. Winter and spring are peak times for potholes as roads can repeatedly freeze and thaw when temperatures pick up during the day, leading to cracks in the surface.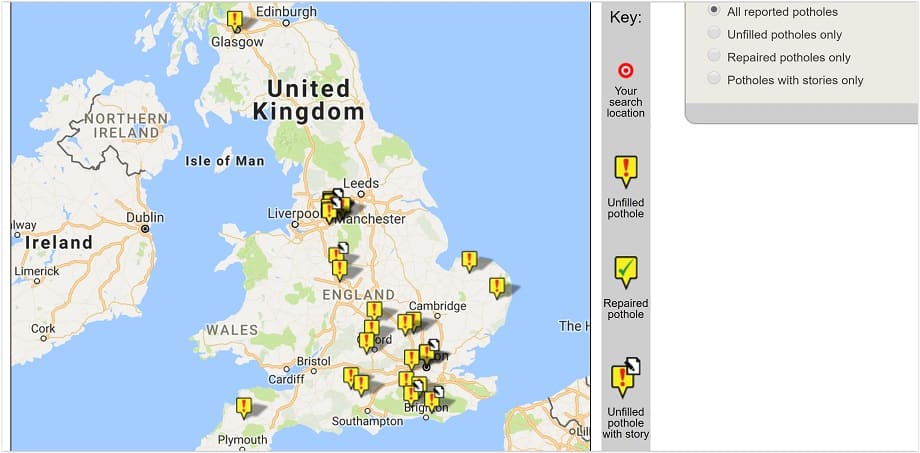 At potholes.co.uk you can check potholes reported over last 30 days in your area
With hundreds of thousands of potholes now blighting the UK's roads, here are some top tips on how to avoid damaging your car -- and what you should do if a pothole leaves your vehicle needing repairs. Although you are entitled to ask your council for compensation, not all claims applications are successful.
How Tyres Can Save You from Pothole Misery
If you live in an area especially affected by potholes, you might want to consider upgrading to tyres which are typically geared towards wintry conditions. That's because the side of the tyres are normally a little larger, and able to absorb the impact that driving into a pothole can cause.
Alternatively, if you're looking for more of a low budget solution, simply ensure that your tyres are sufficiently inflated at all times.
Here is a short guide to check your tyre pressure:
Opting for the higher level of tyre pressure sanctioned in your vehicle manual is a good defence against pesky potholes.
Remaining Vigilant for Potholes behind the Wheel
It's a frustrating state of affairs when you have to be careful driving on roads that you already pay taxes to maintain -- but unfortunately, it's a necessity. If you're on a particularly rough stretch of road, you should consider taking things a little slower. Suddenly hitting down on your brakes to avoid a pothole can actually cause considerably more damage than progressing onwards at a steady pace.
The behaviour of fellow motorists can also be a helpful indicator as to what's ahead. Although you shouldn't blindly copy every action of the driver ahead of you, someone swerving can act as a warning for you to do the same to avoid a nasty pothole.
Finally, we come to probably the biggest clue when it comes to potholes -- and that's puddles. Given the fact that they can leave huge craters in the road surface, standing water should signal alarm bells that there's something sinister lying below.
What to Do If Your Car Has Been Damaged by a Pothole
Your tyres and your ability to steer safely can be considerably damaged if you end up hitting a deep pothole -- especially if you were driving at a higher speed. Because of this, it's important to pull over and assess the damage as quickly as possible. What's more, you may need to gather some evidence for when you're submitting a compensation claim to the local authority who is responsible for the upkeep of that road.
Unfortunately, some forms of damage may not manifest themselves straight away -- and could rear their ugly head in the days that follow. If your car is beginning to veer to one side or your steering wheel isn't aligned the way it should be, head over to a mechanic immediately to prevent those problems worsening.
Next, you should try and safely take some photos of the pothole which caused the damage from the side of the road. Take details of exactly where and when the incident happened, and get the contact number of any witnesses who saw you get into difficulty.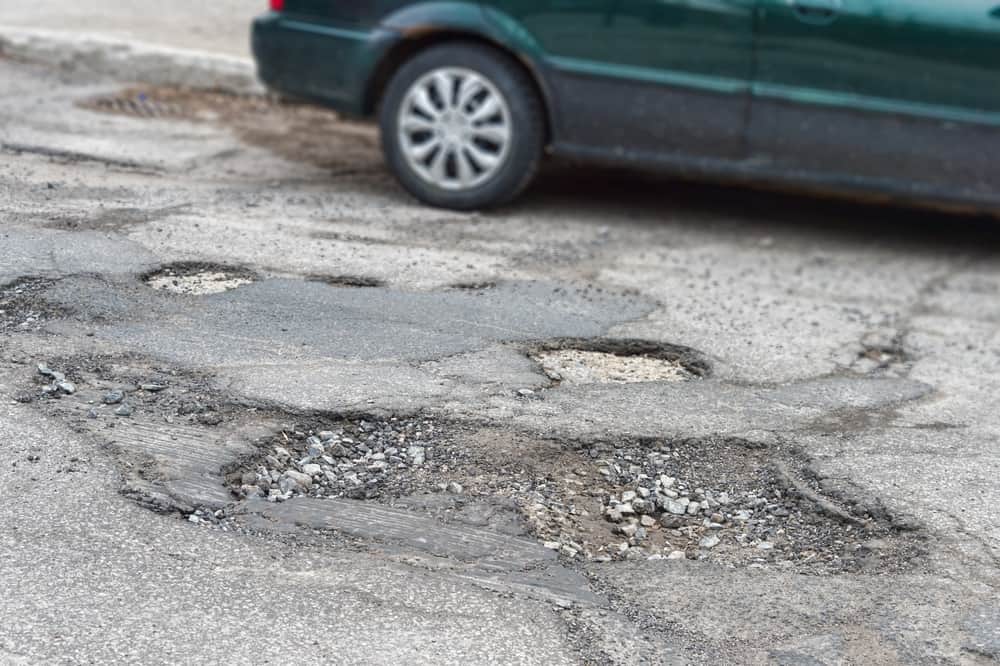 Take the photos from the side, stay safe
Finally, head to the local council's website, where most have a function enabling you to report a pothole. You can make a claim once you have receipts for any repairs, but local authorities may try to defend themselves against costs if they were unaware that the pothole had emerged. If your attempt is unsuccessful, you will be able to appeal -- but this process can be time consuming and a lot of hassle.
According to the RAC, tens of thousands of disgruntled drivers are now taking action and demanding compensation every year.
What's more, research from the AA indicates that the typical amount paid out following a successful claim stands at £583, which hopefully would be more than enough to get your trusty motor back on track.
90%
of people found this article
helpful
.
Click a star to add your vote
6
votes - average
4.5
out of
5
How good of a driver are you?
An expert behind the wheel or danger to the road?
Take a free quiz