Technology giants such as Google and Uber are currently embroiled in a massive battle to be the market leader when it comes to driverless cars -- also known as autonomous vehicles.
Both have been performing trials in US states such as California and Arizona, with varying degrees of success.
Google has been working on its driverless technology for the best part of 10 years, and reached a significant milestone in 2015 when a blind person safely travelled alone in one of its autonomous vehicles. The motor didn't have foot pedals or a steering wheel, and the visually impaired man involved in the trial on the streets of Austin said it gave him hope of being able to travel independently one day. Check the trial and the gentleman's impressions in the following video.
Uber has also had its fair share of triumphs -- despite facing allegations from Google's autonomous vehicles arm Waymo of stealing ideas -- but suffered a setback when one of its self-driving cars was involved in a crash in Arizona. It does appear that a manually controlled vehicle was responsible for the collision, but nonetheless it forced the start-up to temporarily take its fleet off America's roads -- with the extensive media coverage likely to damage the public's confidence in the safety of driverless tech.
Trials of driverless cars have also begun in the UK. They've been on the roads in several towns and cities -- including Milton Keynes, Coventry and London. Check how these small vehicles show their skills avoiding pedestrians on UK roads.
So: Will I Need a Licence in Order to Use a Driverless Car?
Well, this is a murky area at the moment. British law often lags behind the break-neck speed of advancements in technology, and so there's a lot still to play for. A lot of it is likely going to depend on whether driverless cars end up sharing the same roads as manual motors. Also, if a car is semi-autonomous -- which means that the rider can override a system and take control in emergencies -- peers in the House of Lords believe that this would mean some form of driving test will need to be in place.
A report by the science and technology committee in the Lords expressed concern about who would be liable if a driverless car was involved in an accident, as all costs associated with a collision are usually put through the insurance policy of the driver at fault.
Their findings suggested that the manufacturer of the driverless car could end up being responsible for liability if one of their vehicles is involved in a crash while it's fully autonomous. Although drivers are probably going to be breathing a welcome sigh of relief at this proposal, it could further delay the rollout of driverless cars in the UK because manufacturers will want to limit the chances of any costly claims and test their vehicles for longer to ensure that each and every kink in the technology has been ironed out.
Several professors told the committee that they believe people should sit a test before they use an autonomous vehicle -- irrespective of whether they are already licensed to operate a normal car. The Government has been urged to perform research into whether or not people travelling in driverless cars may end up complacent and overly reliant on the technology, slowing down their reaction times to hazards involving vulnerable road users such as cyclists and pedestrians.
In Summary: The Pros and Cons of Driverless Cars
So: given the massive shake-up that driverless cars would bring to the UK's transportation network, what are the advantages and disadvantages of welcoming this technology on to the nation's roads?
The Cons
1

It Could Affect Jobs

Taxi drivers, delivery drivers and bus drivers could be hugely affected once autonomous vehicles become mainstream on the streets -- potentially creating an unemployment crisis.

2

Flaws in the Technology

Some critics believe the systems used to power driverless cars are far too young, and security vulnerabilities could result in vehicles being hacked with the intent of causing injuries.

3

They Are Likely to Be Very Expensive

High prices could deter everyday consumers from splashing out on a driverless car for many years to come. However, competition between manufacturers could help keep costs down.
The Pros
1

They May Reduce Accidents

The vast majority of collisions are caused by human error, but driverless cars could make this a thing of the past.

2

Fewer Traffic Jams

Autonomous vehicles would enable a steadier flow of traffic, and a reduction in collisions on the roads means fewer lane closures which create congestion and disruption.

3

You'll Save on Fuel

Driverless cars are more economical in their fuel consumption, in part because they gradually brake and accelerate. All of this would be money in your pocket, meaning that autonomous vehicles could actually prove to be a long-term investment when they become publicly available in the years to come.
Here Is What Millennials Really Think about Driverless Cars:
We surveyed 200,000 of driving websites visitors in four countries (Australia, Canada, the UK, and the US) about their views on self-driving cars. Respondents in the UK expressed strong opinions and concerns while answering the following question: "On a scale from 0 to 10, how concerned would you be about riding in a driverless car? (0 = not at all concerned; 10 = extremely concerned)." The results below prove that the subject is still pretty controversial.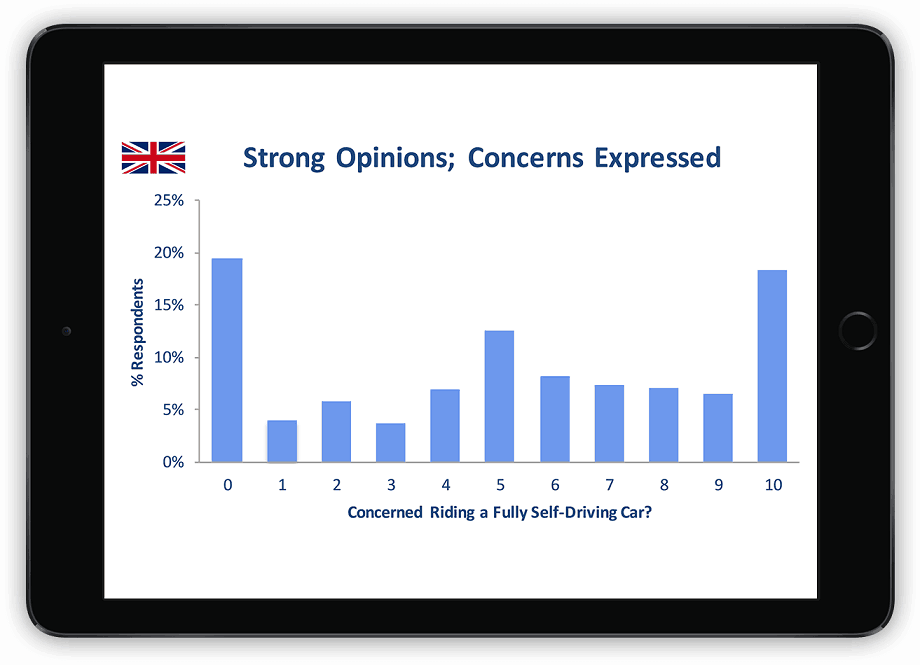 Elegant E-Learning survey
However, UK young people unlike respondents in the other three countries seemed slightly less concerned about riding in a fully driverless car, the proportion (23.5%) of UK respondents who would have few or no concerns was roughly equal to the percentage (24.8%) who would be very or extremely concerned.
What is your view? Are you ready for autonomous vehicles to be part of your everyday life?
How good of a driver are you?
An expert behind the wheel or danger to the road?
Take a free quiz