Understanding what's included in a car MOT helps you make easy fixes in advance of a test, and proves useful if you're buying a second-hand model.
The mechanic's objective is to examine whether your car's components are roadworthy and compliant with DVSA guidelines.
MOTs for cars cost a maximum of £54.85 under current rules, but it's worth looking around as major test stations and council MOT centres often offer discounts.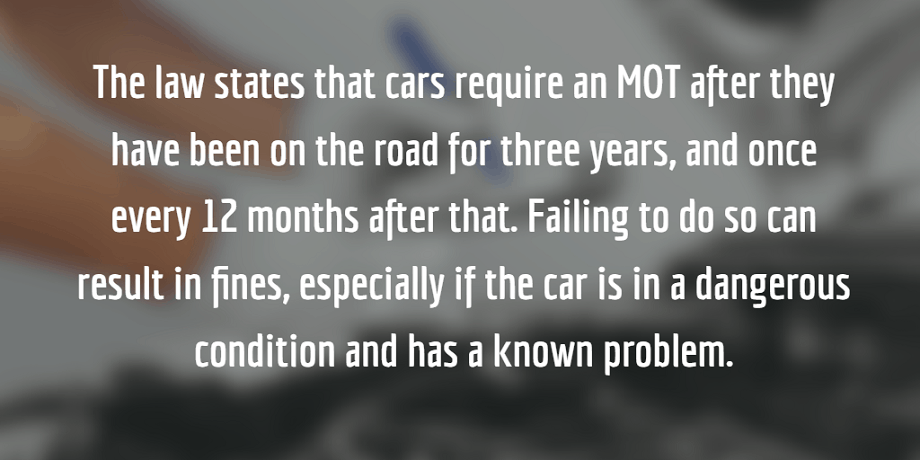 Plan your MOT accordingly
Although you'll be given a receipt after your vehicle passes a test, the actual certificate is held in a central system keeping track of all cars nationwide. This means checking a car's official MOT history is straightforward if you're ever purchasing a used vehicle, or are trying to sell yours.
The records mainly show the mileage at the time of the last MOT, and state when the next test is due. Mileage information is stored to stop sellers fraudulently attempting to alter the car's meters to command higher asking prices.
You can take your car for an MOT up to a month before it's due to expire. This test is not the same as getting your vehicle serviced, and separate fees will apply for getting parts fixed or replaced.
11 Standards Your Car Needs to Meet
1

Vehicle Number and Registration Plate

Every car that's manufactured comes with a unique serial code. The mechanic will verify it is present and correct before looking at your vehicle's plates. They need to be fixed and the front and back of the car with letters and spacing which meet the DVSA's requirements.

2

Vehicle Structure and Body

Mechanics will inspect the car for corrosion and damage which falls below the minimum standards, and check for sharp edges which could harm other road users.


It might be a good idea to apply corrosion protection to prevent the problem

3

Fuel System

The hoses and pipes will need to be in fine fettle, and your fuel cap must be able to seal securely in order to prevent leaks.

4

Emissions

A smoke test is performed to ensure that your car's exhaust emissions aren't excessive. Diesel cars are particularly prone to failing the MOT in this area if the camshaft drive belt isn't swapped on a regular basis. Warming up the car's engine prior to an MOT is one way to prevent excessive levels of smoke being produced during testing. The exhaust itself will be checked for noise, and to ensure any catalysts which were fitted when the car was manufactured are still in place.


Check whether your car meets the newly introduced emission standards on the official VCA site (VCA)

5

Towbars

Your mechanic will want to see they are secure and free of modifications which break the rules. Engine mountings should be fastened correctly and the speedometer must be fully operational.

6

Doors

The hinges, latches and catches will be checked -- and the doors themselves will be tested to see they open from both inside and outside the car. The boot and bonnet must also be proven to close properly.

7

Tyres

Although spares are not examined, all of the wheels fitted to your car will be inspected for security, their overall condition, the tread depth and whether they're an appropriate size and type. The tyre pressure monitoring system is also checked on vehicles manufactured from 2012 onwards. Here is how you can check the tread depth easily on your own:

8

Seats and Seatbelts

The driver's seat needs to be adjustable, and all other seats must be properly secured. Every seat needs to be equipped with a working, secure and appropriate seatbelt. Where provided, airbags will be examined for potential defects.

9

Brakes

A test is performed to make sure your braking system is operating and performing as it should be. Make sure no inappropriate modifications have been made. If you have an anti-lock braking system, this will be inspected, and your mechanic will make sure that dashboard lights which alert you to problems -- such as when you're running low on brake fluid -- work.

q

Lights

All of your fittings need to be in good condition and operating normally. When it comes to your headlamps, they need to be secure, aimed in the right direction, and clean.

w

Other Items

Your horn, windscreen, washers and wipers will all be checked, as any failures can impede your view of the road and affect your ability to respond in an emergency. Any visible wires, as well as your car's battery, are also given the once over.


The maximum possible damage size is 10mm in the drivers' line of vision, a vertical strip 290mm wide centred or 40mm elsewhere
Changes are regularly made to the MOT by the Government, and your local mechanic will be able to keep you abreast of these updates.
If you're taking your theory test soon, make sure you're up to speed on car maintenance, as these questions could be asked in your exam.
100%
of people found this article
helpful
.
Click a star to add your vote
1
votes - average
5
out of
5
How good of a driver are you?
An expert behind the wheel or danger to the road?
Take a free quiz