The Anatomy of the Driving Theory Test: 15 Little Things You Need to Know to Pass
The theory test is a computerised examination that you take before the practical driving test. Its purpose is to test your knowledge of the Highway Code and driving in the UK. Questions are based on official DVSA guides: The Official Highway Code, Know Your Traffic Signs, and The Official DVSA Guide To Driving (Amazon). The test may be booked online, and it requires both parts of your driving licence, e-mail address, and credit/debit card information to be booked. It can also be booked over the phone. The fee to take the test is currently £23. The test comprises of two sections, the multiple-choice section and the hazard perception section, which we will discuss individually below.

Share on your website or blog (click to select, then CTRL+C to copy):
Know The Rules
17
minimum age to take the theory test
You must be

at least 17 years old

to take the theory test.
16-year-olds may take the test if they apply for the enhanced rate of the mobility component of the Personal Independent Payment.
You cannot take personal items with you into the testing room, but you will be given a locker to securely store your items.
Cheating on the test may lead to imprisonment or a ban from driving.
People with reading difficulties, hearing impairments, and other disabilities may apply for accommodations.
Test Timing
You should arrive

30 minutes

before your scheduled test time.
You will have

15 minutes

to practice getting used to the computer screen.
You have

57 minutes

to answer the multiple-choice section.
You may take up to a

3-minute break

after the multiple-choice.
The hazard perception section takes approximately

20 minutes

.
The Multiple-Choice Section
The multiple-choice section has two kinds of questions that ask about driving rules and behavior. The first kind is simply a question followed by a response in which candidates must select one correct answer. The second kind is considered a case study, in which test takers read a short story based on real-life experiences, and then answer 5 questions about the story.
You have

57 minutes

to complete

50 questions

.
You may flag questions to come back to later in the time frame.
You may revise your answers at any point in the time frame.
The Hardest Multiple-Choice Questions
A research study conducted by Theory Test Pro discovered 8 questions that 40% of learner drivers fail to answer correctly. These questions are:
You are involved in a collision. What documents may the police ask you to produce?
Name three situations in which you may overtake another vehicle on the left?
When can you drive or park in a cycle lane marked by a solid white line?
How can you identify areas reserved for trams?
You have broken down on a motorway. When you use the emergency telephone, what information will you be asked?
Where would you find reflective amber studs on a motorway?
You are in a collision with another moving vehicle. Someone is injured and your vehicle is damaged. What four things should you find out?
If your car has unbalanced wheels, what can this cause?
The letter you'll receive from the DVLA if you pass your Theory Test (Image courtesy of the Girl in London blog)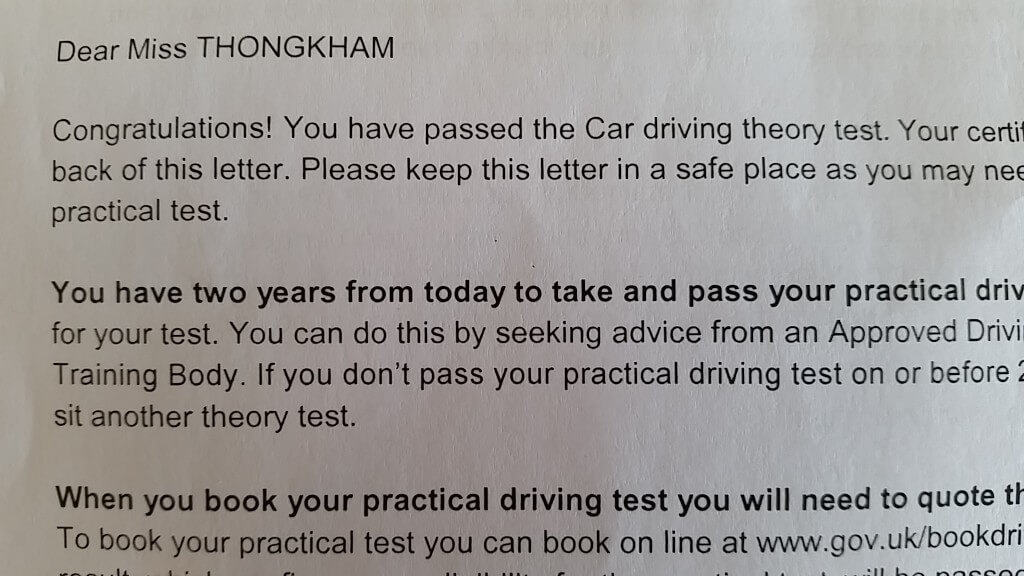 The Hazard Perception Section
The hazard perception section requires candidates to watch short video clips of real-life scenarios and click the screen when they spot hazards on the road. This tests the candidate's ability to spot developing hazards, which are hazards that require the driver to take action.
There are

14 one-minute video clips

.
Score up to

5 points

per recognized hazard. The number of points awarded depends on how soon you recognize the hazard.
You do not lose points for clicking incorrectly.
You gain no points for continuous clicking or clicking in a pattern.
You have

one attempt per video

, and you many not review or revise your answers afterwards.
The test taker must pass both sections of the theory test to obtain a pass certificate that lasts for 2 years. If you fail, you must wait for 3 days before attempting to retake the full test, even if you only failed one section. The passing score for the multiple-choice section is 43/50, and for the hazard perception section, it is 44/75.
Passing Statistics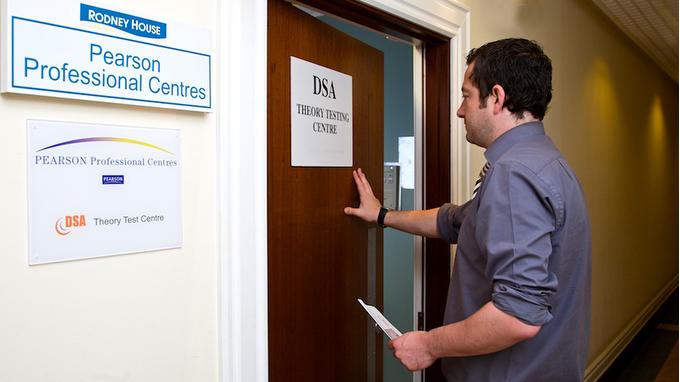 Only 46% of test takers pass the theory test on their first attempt. Here are some yearly statistics on passing rates for the theory test:
2007-2008 – 1451348 Tests taken, 65.4% Pass
2008-2009 – 1290638 Tests taken, 65.4% Pass
2009-2010 – 1347486 Tests taken, 63.8% Pass
2010-2011 – 1346165 Tests taken, 63.1% Pass
2011-2012 – 1371494 Tests taken, 60.8% Pass
2012-2013 – 1244041 Tests taken, 59.1% Pass
2013-2014 – 1541896 Tests taken, 51.6% Pass
2015_____ – 1848056 Tests taken, 49.7% Pass
Detailed official statistics on the driving and theory test are released quarterly by the UK Government and can be found here.
A study in 2014 found that females are 6% more likely than males to pass the theory test; however, males are 6% more likely than females to pass the practical test. Based on the results from January to March of 2016, 48% of men passed the theory test while 51% of women passed.
Theory Test History
The theory test was introduced in 1996 to replace answering questions about the Highway Code during the practical driving test.
September 2007 – number of multiple choice questions increases from 35 to 50
September 2009 – case study questions introduced in multiple-choice section
January 2012 – Question bank for theory test withdrawn from publication
January 2013 – First set of never-before-published questions used in testing
April 2014 – Use of voiceovers and translators for foreign language tests withdrawn
October 2014 – test fee drops from £31 to £25
October 2015 – test fee drops to £23
Comparing the Pass/Fail rates with the history of the test shows that the decline in pass rates is correlated with the changes made to the test. Additionally, the number of tests taken each year was relatively stable until 2013, when the number began to increase. This has been attributed to the decrease in pass rate which has led to more retests.
The Highway Code
The Highway Code is a manual that can be downloaded here. Its goes over the rules and safety regulations for drivers, riders, pedestrians, and cyclists using the street. It was last updated March 29, 2016 and applies to Scotland, England, and Wales. Northern Ireland has its own Highway Code. Its contents include: Rules for pedestrians, powerful wheelchairs and mobility scooters, animals, cyclists, motorcyclists, drivers and motorcyclists, General rules and techniques for drivers and riders, Using the Road, Road Users Requiring Extra Care, Driving in Adverse Conditions, Waiting and Parking, Motorways, Breakdowns and Incidents, Roadworks and level crossings, Traffic Light Signals, Signals to Other Road Users, Traffic Signs and Road Markings, 8 Annexes regarding documentation, penalties, safety, and security.
The materials you need are the official Highway Code, The Official DSA Theory Test for Car Drivers, The Official DSA Guide to Driving -- the Essential Skills (Image courtesy of the PostAdsUK.com website)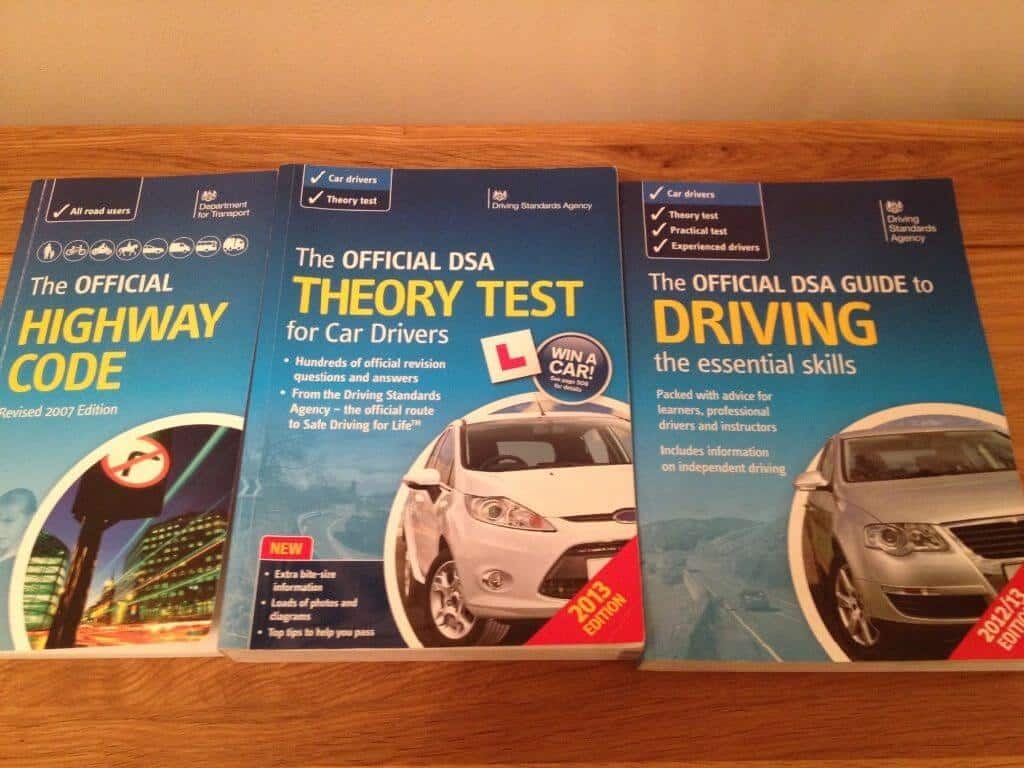 Upcoming Changes to the Theory Test
The UK is currently considering changes to the driving test because of an increase in driving-related accidents. The government explains the reasons here. The main changes under consideration are the following:
Increase the independent driving portion of the test from 10 to 20 minutes.
Candidates follow directions from a sat nav rather than only road signs.
Replace current maneuvers with more real-life scenarios; for example, reversing out of a parking bay.
Asking safety questions while the candidate is driving; for example, how to switch on the rear heated screen.